UEZ LZ 75/100 Laboratory Compulsory Mixer

130 litres
Ready-made mixture


Dimensions
1.20 x 1.20 x 1.50 m

The Laboratory Compulsory Mixer

UEZ LZ 75/100

provide perfect mixing results up to 130 litres, sturdy design, and high-quality materials – the ideal partners for the rough life under daily building conditions.
The UEZ 4-arm-mixing-technology
The UEZ 4-arm-mixing-technology guarantees an intensive mixing within shortest time. The mixer's arms are supported by springs, the shovels made from high-quality material.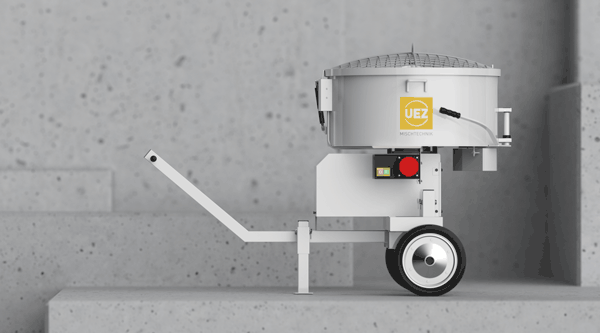 Height adjustable
All compulsory mixer models of these series come with vertical adjustment to change the discharging height. Due to their hand draw bar and their two wheels they can easily be moved in any position.
Bottom discharge for easy dosing
Bottom discharge with segmental discharge slide allows a well-dosed discharge of the mixture. Low charging height due to adjustable height.
Clever in every detail
Practical details make the UEZ LZ 75/100 compulsory mixer a convenient helper in your daily tasks.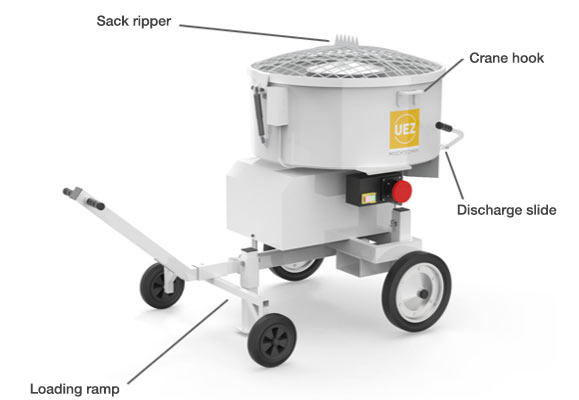 Do you have any questions? Get detailed and non-binding advice on our mixers now.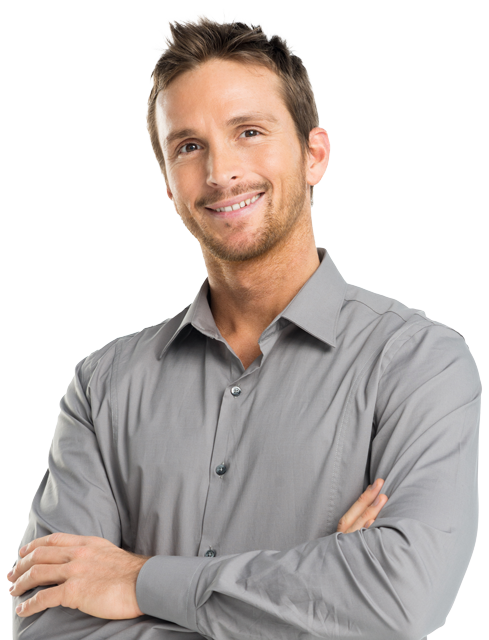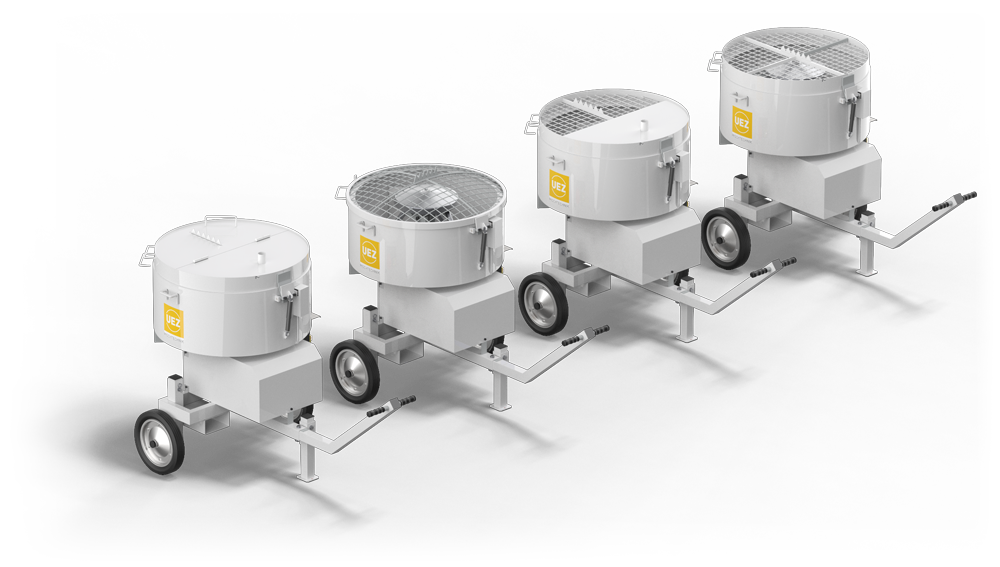 4 lid variants
Den UEZ LZ 75/100 is available with different lid variants: with or without dust protection, with partial dust protection or with domed lid.
You decide what goes in.
The mixer makes it easy.

Whether concrete, screed or filler, whether plasters, granulates or refractory materials: UEZ compulsory mixers are the first choice when it comes to homogeneous, fast and reliable mixing of all kinds of media.
Which mixer for which mix? Let us advise you.
Technical Data UEZ LZ 75/100
Technical data
UEZ LZ 75 / 100
Content mixing drum
200 litres
Ready-made mixture
Appr. 100-130 litres
Grain size
Appr. 32 mm
Discharging
segmental
Motor
4 kW / 400 V / IP 54
Mixer
4 arm mixing technique
Mixing speed
48 rpm
Electricals
Motor protection switch with phase changing
16 A
Accessories
Swivelling stabilizing wheel
Hinged dust cover
Available versions
Mobile with solid rubber wheels or static
Height adjustable
Safety
The mixer shuts down automatically when the safety grill is opened.
Discharge protection on bottom discharge.
Mixer assembled in accordance with EU machine directives
CE and GS certified
Dimensions L x B x H
1,200 mm x 1,200 mm x 1,500 mm
Weight
220 kg
Subject to technical changes.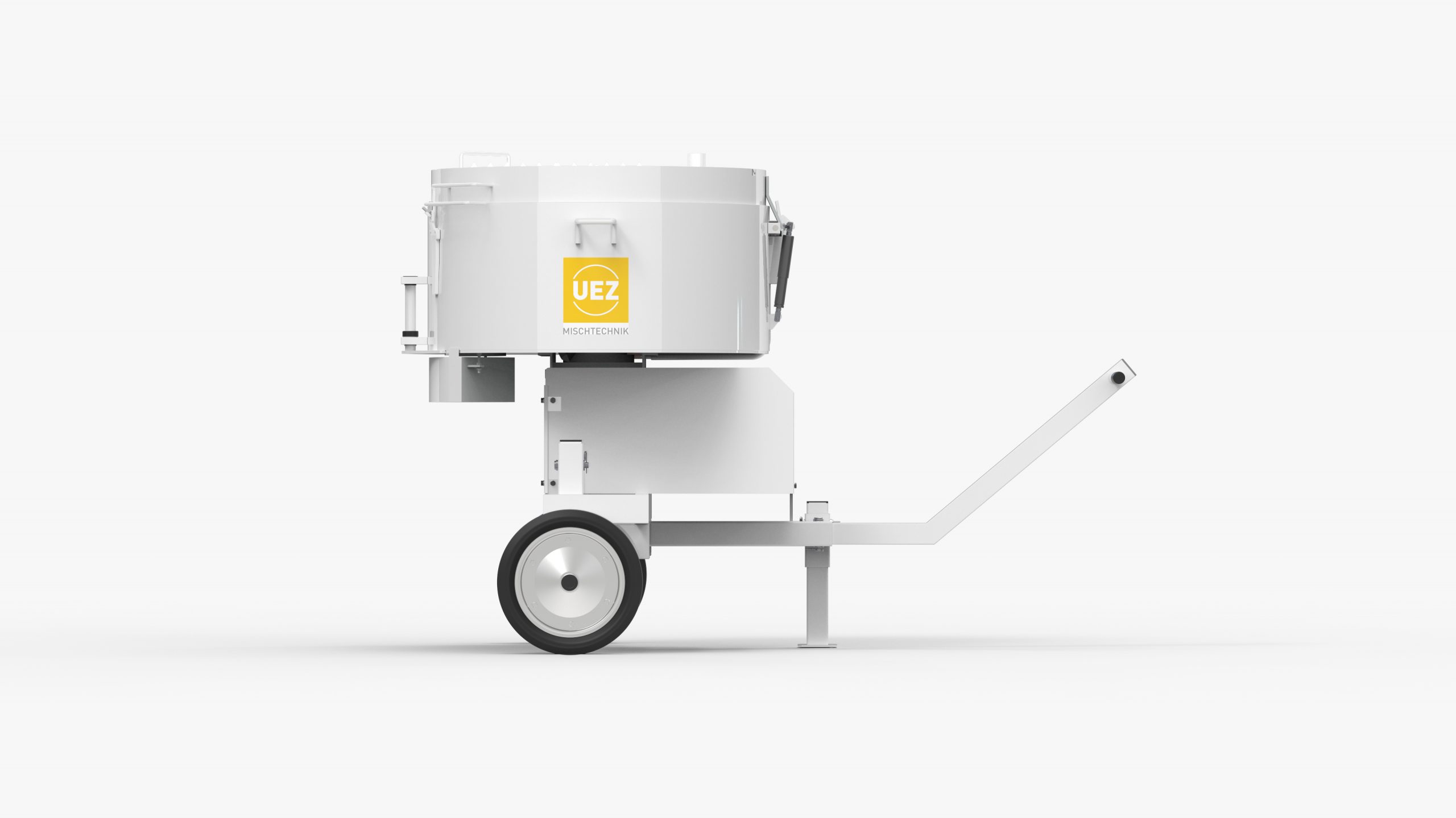 The UEZ LZ 75/100 at a glance
The professional compulsory mixer with the UEZ 4-arm-mixing-technology
Mixing scoops with spring supports
Low charging height
Steady construction offers safe standing
Removable drawbar
High-performance motor
Long service life
Motor protection switch with rotational direction selection
Exposed mixing drum
Segmental discharge slide
Foldaway safety grid on top of the drum with automatic shutoff
CE certified
Do you have any questions?
Book a free appointment for a phone call with our expert advisors