UEZ compulsory mixer ZM 200

180 liters
Ready-made mixture


Dimensions
1.20 x 1.20 x 1.50 m

The professional compulsory mixer UEZ ZM 200 provide perfect mixing results, sturdy design, and high-quality materials – the ideal partners for the rough life under daily building conditions.
The UEZ 4-arm-mixing-technology
The UEZ 4-arm-mixing-technology guarantees an intensive mixing within shortest time. The mixer's arms are supported by springs, the shovels made from high-quality material.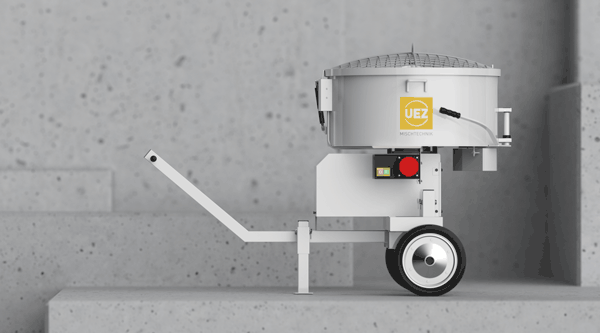 Height adjustable
All compulsory mixer models of these series come with vertical adjustment to change the discharging height. Due to their hand draw bar and their two wheels they can easily be moved in any position.
Bottom discharge for easy dosing
Bottom discharge with segmental discharge slide allows a well-dosed discharge of the mixture. Low charging height due to adjustable height.
Clever in every detail
Practical details make the UEZ ZM 200 compulsory mixer a convenient helper in your daily tasks.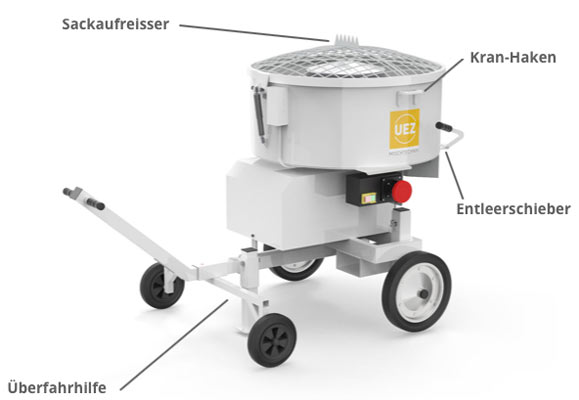 Do you have any questions?
Get detailed and non-binding advice on our mixers now.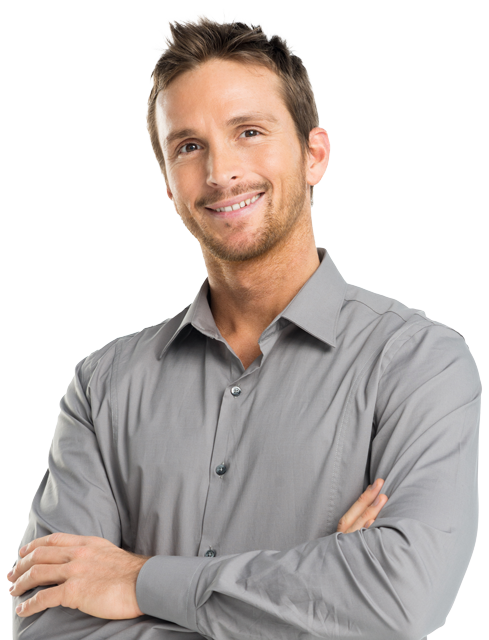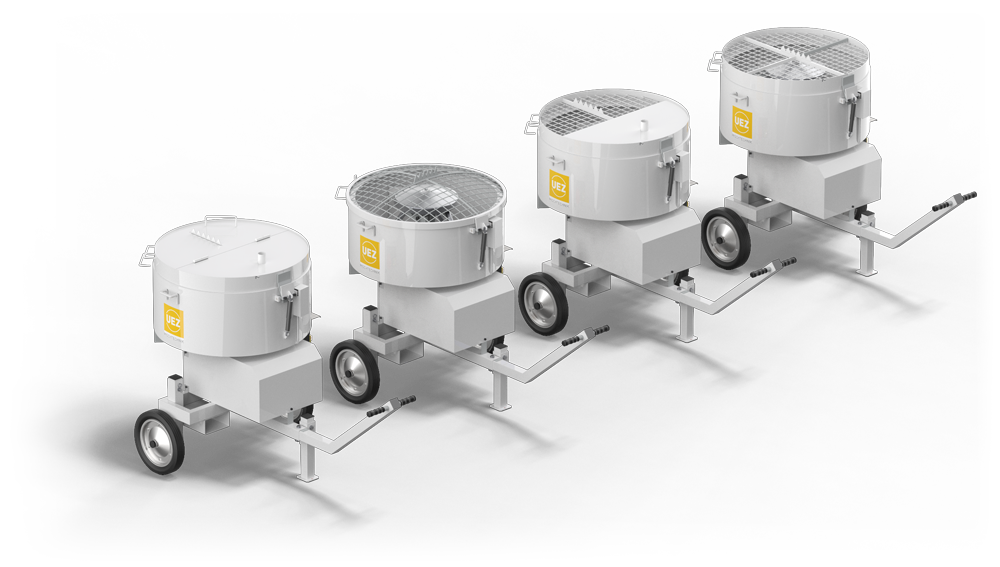 4 lid variants
The UEZ ZM 200 compulsory mixer is available with different lid variants: with or without dust protection, with partial dust protection or with domed lid.
You decide what goes in.
The mixer makes it easy.

Whether concrete, screed or filler, whether plasters, granulates or refractory materials: UEZ compulsory mixers are the first choice when it comes to homogeneous, fast and reliable mixing of all kinds of media.
Technical Data UEZ ZM 200
Technische Daten
UEZ ZM 200
Inhalt
280 Liter
Fertigmischgut
(Feuerfestmassen je nach spez. Gewicht)
180 Liter
Entleerhöhe
530 - 680 mm
Liefervarianten
fahrbar
stationär
Antrieb
5,5 kW / 400 V / 16 A
Mischwerk
4-Arm-Mischtechnik mit Wandabstreifer
3-Arm-Mischtechnik mit Turbowirbler und Wandabstreifer
Drehzahl
48 Upm
Elektrik
Motorschutzschalter mit Drehrichtungsvorwahl
Gerätesteckdose 16 A / 32 A
Zubehör
Staubdeckel für Trommel

Sicherheit
Abschaltautomatik beim Öffnen des Schutzgitters
Entleerschutz
CE-Zertifikat
Maße L x B x H
1.200 mm x 1.200 mm x 1.500 mm
Gewicht
380 kg
Subject to technical changes.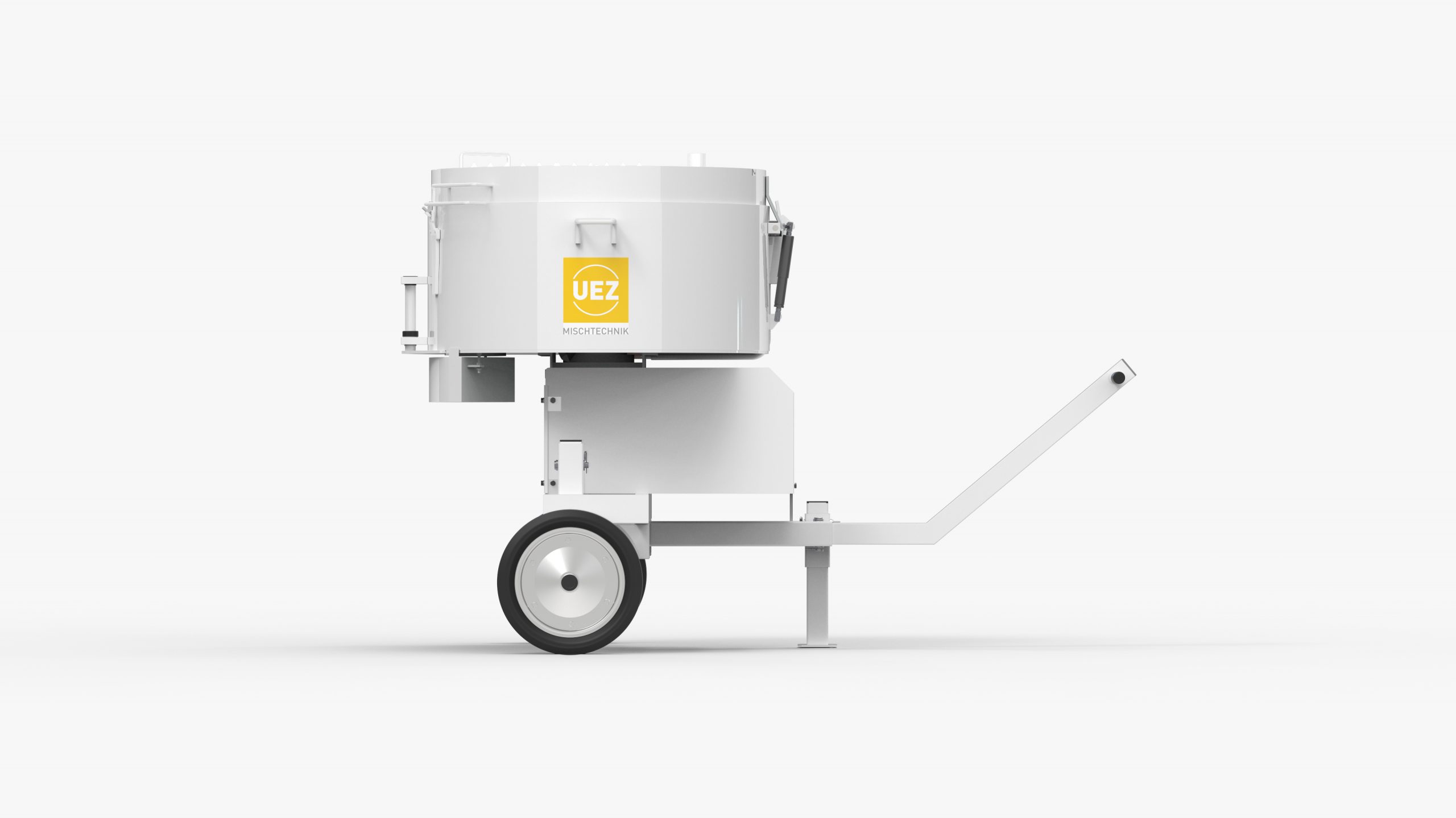 The UEZ ZM 200 at a glance
The professional compulsory mixer with the UEZ 4-arm-mixing-technology
Mixing scoops with spring supports
Low charging height
Steady construction offers safe standing
Removable drawbar
High-performance motor
Long service life
Motor protection switch with rotational direction selection
Exposed mixing drum
Segmental discharge slide
Foldaway safety grid on top of the drum with automatic shutoff
CE certified
Do you have any questions?
Call us at +49 (0) 7151 25016-50 or use this form. We will be happy to consult you.